Description
VT9000 DECT Compatibility
VT9000 is mainly used for telephone, direction, trend, Cisco, Asia, Panasonic, unified communications, etc., through the EHS line. Can provide response and shutdown support.
EHS1 is for Cisco7900 series phones;
EHS4 is for Mitel (Aastra), Unify, Siemens phones;
For EHS5, Avaya, Shoretel, Toshiba phones;
EHS6 is for Cisco phones;
EHS7 is for Panasonic phones;
EHS9 is for Alcatel phones;
For EHS10 phones for Grandstream phones;
EHS13 for Polycom phones;
EHS15 for Fanvil phones;
EHS18 for Sangoma phones;
EHS21 for Digium phones.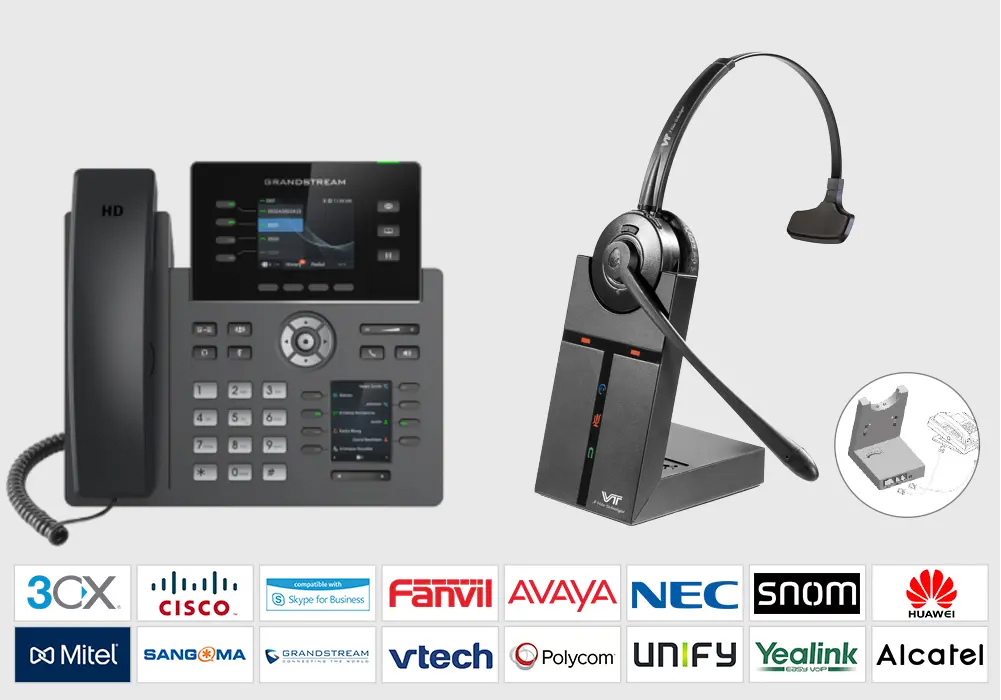 Advanced noise reduction technology filters 80% of background noise
Hearing protection technology

Comfortable and soft memory headphones
36 Hours Standby Time
Product Advantages
Noise-canceling microphone provides clear calls and stereo sound.
Supports 4 people in the conference room.
Talk time is about 8 hours.
The charging time is less than 3 hours.
Simple, useful and easy to use.
Professional, high-end office DECT headset guarantees confidentiality of calls and is also your best choice for your efficient work.